Emily Berger
by: Ellen Gurley
If you drive (at all) in Charlotte, then you have had the pleasure of seeing the Welsh Lovespoon- inspired ArtPop billboard by Emily Berger. She is the local artist behind all of the beautiful utensils featured on that Adams Advertising placard. Arts & Science Council grant recipient and active member of the creative community, Berger uses reclaimed materials for Rogue Woodwork, aptly named after her adopted cat.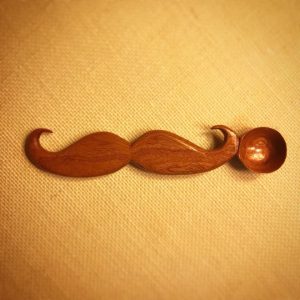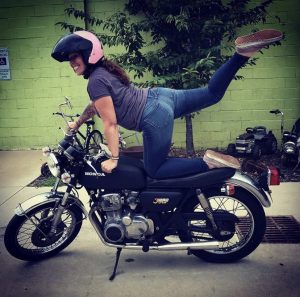 Constantly learning and experimenting with new techniques, Berger sells her wooden bowls, scoops, ladles, shovels, cutting and serving boards, trivets, petite cheeseboards, platters, spreaders, butter knives, traditional Viking drinking cups (Kuksa's), and spoons. So many spoons. Some commissions have included Avett Brothers inspired banjo-shaped spoons, spoons that feature the Bat-symbol, and mustache-shaped spoons. I've seen her crank out straining spoons of all types, sixteenth note ladles, scoop and stir combo utensils, and spoons with infinity or looped handles. Sometimes the handles look like they are still in nature with intricate leaves or are Springbok horn-shaped.
"I've long been inspired by the animal kingdom and particularly enjoy carving horns and antlers." Berger says, "Broken tines sometimes happen as a result of an inaccurate shot from a hunter or a violent, but natural, stag fight." She says she got to mimic that in a few pieces when her "bandsaw zigged instead of zagged". Sometimes she will start out with one spoon and she will 'play' with the shape and turn out with two spoons. There is a lot of "winging" it in her art. She finds herself "snatching up branches with the perfect crooks in them" often leaving a thin layer of under bark because she likes colour variation. She says that she has "always liked the idea of using naturally, reclaimed material. Knots, cracks, and imperfections are part of the charm in handmade goods."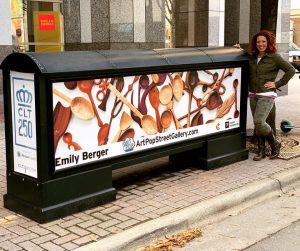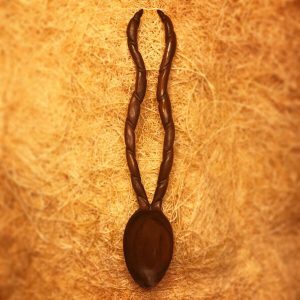 Rosewood, Granadillo, Cherrywood, Ebony, Bubinga, Kingwood, Tulipwood, Maple, Poplar, Flame Maple, and Tigerwood are not the ingredients of a hot, new cocktail. They are, however, the raw materials that Berger uses to create her wooden masterpieces. Not only making vessels and tools for food, she takes commissions for custom skate decks, wooden buffalo skulls, rifle racks / mounts, custom handmade wooden maps, (wooden) worry stones, framed wood carvings, wall hangings, and carved yoga blocks. She even makes her own lacquered barrel beads for crafting her handmade jewelry.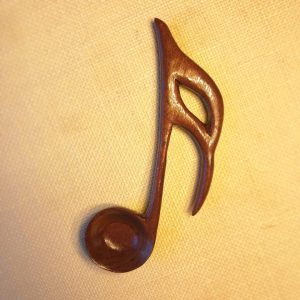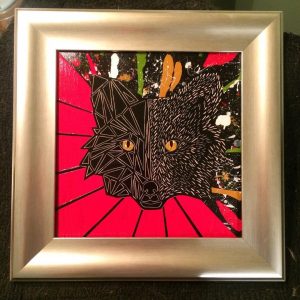 I don't think that there is much that she cannot do with a 'hunk of wood' and you'll be hard pressed to find a career that she hasn't had (see: art framing, axe throwing, dental assistant, talent buyer, and graphic designer). She is also currently a very popular and sought-after yoga instructor. You can catch her at her various pop-up classes in NC Yoga Bar at the Space. When not in the woodshop or studio, it's hard to catch up with Berger. Mudding in the woods, hiking in the mountains, doing cosplay at a convention, romping around at Krampus Krawl, modeling at a local fashion show, or traveling are just a few of the ways that Berger takes life by the horns. Formerly an avid runner, she still participates in charity 5K's and she can't get enough of riding her bike around town (sometimes in charity runs or exploring a regional bike week). She obtained her beloved Ophelia, a 1974 Honda CB350F, from local musician Jude Gulick and it has been a fun love story to follow. Emily Berger isn't just an artist, an athlete, and a philantropist. Her zeast for life is quite contagious and she always wants to spread the joy and 'give back'. This makes her one of My City Magazine's favourite Charlotte people and we are willing to share her.
704-418-1566
roguewoodwork@gmail.com
www.Instagram.com/RogueWoodwork
www.RogueWoodWork.net
Fun fact: Her love of riding came from her father and her desire to pick up woodworking is a nod to her great grandfather.
Cute quote from her: "When I die, bury me in sawdust and cat fur. I'll feel right at home in the afterlife."