January / February 2020
Pet Profile: Cordelia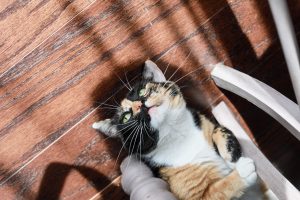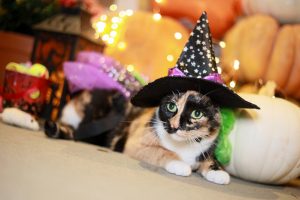 I was spotted on the side of the road and was rescued to join my human family a few summers ago. They named me Cordelia. I enjoy following my human mommy around and involving myself in all aspects of her day. I make sure mom is up before daylight to get the kids up and lunches packed. I follow mom to supervise and make sure that the food stuffs are up to standard. Everyone has to give her some love in the morning before they leave.
Unfortunately, I have a heart condition that requires I get medication 2 times a day. I will always have it, but I am stabilized enough. After my morning pill, I like to have some breakfast and a nap. Mommy is a photographer (photography from sue) and I enjoy helping her test new backdrops and making cameo appearances now and again. All customer bags are inspected. My favorite items are accessories.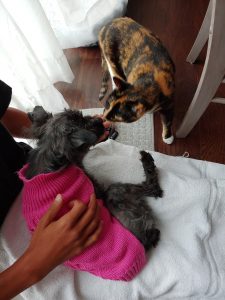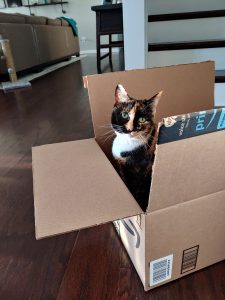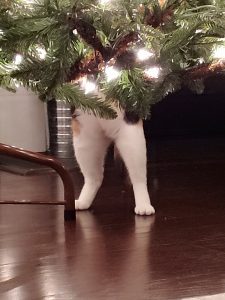 I always make sure my mommy takes breaks from staring at the computer by sitting on the keyboard, blocking the screen, or locking up the computer. I really do take good care of my mommy.
Each member of my family has a role in my life. The boychild is for hiding behind (as he is tall like a tree) and sitting with me while I eat. He seems to like watching me eat. The girlchild is allowed to hug me and cut my nails. I also enjoy playing boardgames with the girlchild and her friends. Sniffing around my dad's stuff and hiding behind his things is pretty cool, though Dad does gets scratched on occasion, To make up for it, special gifts are left for him in the litter box. Mom is fun to craft with and I love the veggies she grows for me in her garden. Kale, mustard greens, collards, bok choy, and lettuce are her current favs. Cherry tomato soccer is great fun! Sometimes I watch my mom work the garden from the upstairs bonus room window.
I am a natural at posing for photos and looking out windows. Boxes are always a current / favorite toy. I am a master bug assassin and I hunt earwigs like a champ. My favorite holiday is Christmas and I love all of the decorations, lights, and trees. Sometimes I have been known to steal the occasional ornament from the trees at 3am. I love to lay under the branches on the tree skirt best. Santa is scary to me, though. I think it's the boots.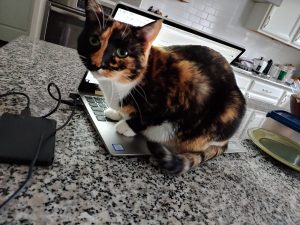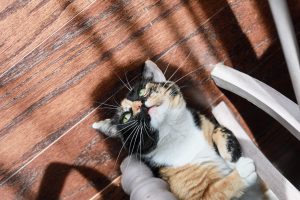 I used to have a puppy big sister, but she went to heaven in the summer. Everyone was sad. Especially me. Sometimes I will go sleep in her puppy bed. I have a huge personality and am loved by my family. Friendly suggestion: please spay, neuter, and adopt don't shop. Thanks for getting to know me.
Would you like to see your pet's profile in My City Magazine? Email EllenGurley@gmail.com
More from Featured
---
SUNDAYS: SPORTS / ACTIVITIES: • www.CharlotteCheckers.com HOME 2.19 4pm vs. Hershey Bears 3.26 1pm vs. Providence Bruins • www.Hornets.com 3.05 6pm @ Brooklyn Nets 3.12 5pm vs. …
  Sarah Pollock (cover illustrator) Michelle Rackley (magazine layout design) James Lee Walker II (columnist) Chris Austin (webmaster) Ellen Gurley (owner / editor) Jenna …
www.MyCityMagazine.net P.O. Bo 5606 Charlotte, NC 28299 704-575-6611 ellengurley@gmail.com Facebook & Instagram: MyCityMagazineCharlotte Twitter: MyCityCharlotte • To run an ad in print and digital, contact ellengurley@gmail.com. • To …