DJ Spider
Not All DJs Wear Capes
By: The Clown
You have seen her. She is the one making you want to dance at Gin Mill or Milestone. She is the one dressed up at Heroes Aren't Hard to Find for Free Comic Book Day. She is the one at the Heroes Convention showing up in three or more costumes a day and then popping up as Wonder Woman to host the costume contest. She is the one that you see in Atlanta at Dragon Con spinning music for an event dressed as Dazzler and making you wonder if that is the same DJ from Charlotte. She can set the mood of any event, inspire cosplayers of all ages, and make kids believe in heroes. Suzann Knudsen, AKA DJ Spider, has been one of the city's best entertainment bets for years. Every DJ event is a unique experience that make you never want to miss an appearance. Her cosplay is visually stunning and precise. Suzann is also one of the nicest people you will ever meet and a true ambassador of Charlotte. The Clown caught up with DJ Spider during the critical window between coming down from Heroes Con and ramping up for Dragon Con.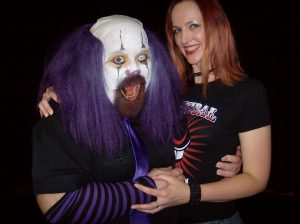 Clown: What influences from your childhood follow you to this day? How do you share them with the world?
DJ Spider: Musically, my dad was a jazz clarinet player, so we grew up surrounded by music. Growing up in the Caribbean, musical influences came from everywhere, as it's really a cultural melting pot of transplants from around the world. I don't let genres tell me if I'll like it. I'll always listen first.
Clown: What are your current challenges as a DJ and what keeps it interesting for you?
DJ Spider: There's been a ton of great growth in the city, but as a result we've lost some of the more established venues that were open to booking off-beat nights or smaller bands (and parking…we've lost so much parking!). It can be challenging to find the right spot to launch a night. As for what keeps it interesting, it's definitely the people. No two nights are ever the same, no matter what genre I'm spinning.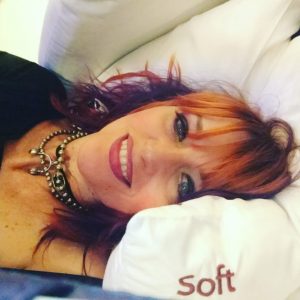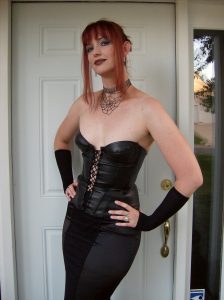 Clown: What are your key steps for preparing for a set?
DJ Spider: It's always reviewing the music, but it depends on the type of night.  For themed events, it's combing through my library to find tracks that will help set the tone or mood, or doing research online if it's left-of-center, which I actually love doing. I had no idea I would like 60's French pop until a gig called for it. If it's more current or mainstream music, I look over the charts and skim social media. If it's more of a dance or rave, I'll dig through sites like SoundCloud and poke through YouTube for things that make my butt wiggle.
Clown: In selecting tracks to play in a set, do you find it to be pure subjectivity/bpm/theme, or are there other criteria that you use?
DJ Spider: It's part popular vote, part event theme, and part gut-feeling. When I'm actually DJing, it can all go out the window depending on what the crowd is like or what my instinct says. You have to be able to read a crowd and help that flow along.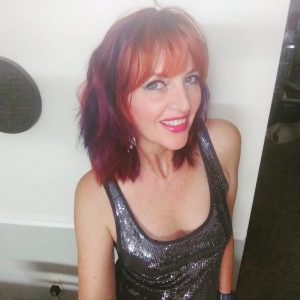 Clown: With so many remakes, remixes, mash-ups, and other versions of songs available, what is your opinion on respecting the source material and traditional live mixes?
DJ Spider: Again, I think it comes down to the crowd. If a track is overplayed, a remix can make it fresh again. An interesting remake is worth playing, but a remake that sounds EXACTLY LIKE THE ORIGINAL?  I'll usually play the original. Sometimes a crowd just needs reminding. I've been doing this long enough to have played Vanilla Ice when he dropped "Ice Ice Baby" the first time, so occasionally dropping Queen on a crowd was sort of my way of being educational.
Clown: You make each of your sets a unique experience for the audience. What methods do you use to achieve this? Does most of it come naturally or is some of it difficult?
DJ Spider: Every audience is unique. Even at a residency, any number of dynamics can change the vibe, whether it's something as simple as a heat wave, a competing event, or a bachelorette party. The dance floor and crowd are a living organism that you have to kind of keep in tune with. They're unique so the experience is unique. If the music can help that along, even better. Sometimes it's tough, sure. I did a gig in the DC area years ago that I went into ready to get everyone moving, only to find that a local member of the community had just passed away suddenly and they had an impromptu wake going on at the same time. You have to be ready to adapt to situations like that.
Clown: Did cosplay come before DJing or did these endeavors evolve together?
DJ Spider: DJing probably came first, but Halloween events were always in the mix.  It wasn't until I discovered conventions that I realized that I had been cosplaying for years and just didn't know it. Being able to combine the two over time was an absolute bonus.
Clown: What was your most complex cosplay and how did you handle the difficulties?
DJ Spider: Every cosplay has challenges, but the one that probably took the most amount of rigging was my Dreamqueen costume. Rigging the horns and wig to sit on my head involved several trips to the Lowe's plumbing department and the deep V is held in place with some wiring, fashion tape, and prayers. Plus, there was body paint to keep in place, fangs, and four-inch heels. I think I was about seven feet tall when all was said and done, so walking through hallways was an adventure.
Clown: You are known for excellent fabrication. What are your top three craftsmanship tips?
DJ Spider: Start at the end. Figure out any challenges you might face while actually wearing the costume. Important questions can include; are there fragile pieces that might fall off, do you have to carry large props, can you pee? Figure out how you're going to get to wherever you're going in it. Does it fit in the car? Do YOU fit in the car when wearing it? Does it need its own seat on a plane? What date do you need it by and can you get these specialty items you have to order to me on time? You will make mistakes. You will end up starting over on some portion of it. Don't freak out and don't put yourself down. You'll fix it. And the next time you do it it'll get easier.  I only sew sleeves on inside-out about HALF of the time now and I've been doing this a LONG time. Choose the right underwear. I have what I call an "Underwear Manifesto" regarding the use of dance belts and keeping yourself family friendly at a con. Pro Tips: For the love of all that is spandex…MEN! Buy a freakin' dance belt! Remember kids are eye level with your junk! I promise you that no one's treasured family photo is going to end up being their little angel next to your little package. Also boxers do not work under spandex, not even for Ambush Bug. And LADIES, a note to you since I recently saw a picture that made me cringe a little. Far be it from me to tell you how to landscape, but if you choose to go commando under your suits, please check to make sure it doesn't look like you're smuggling ramen into the building, m'kay? Underwear is ridiculously important for your costumes. When you are doing fittings or taking measurements, make sure you are wearing what you plan to wear under the costume, to make sure all of the details lie where you expect them to. Remember that spandex has a tendency to flatten the bosom, so a good bra (or two, if you're Jersey Shorin' it) is super important. Be wary of moose knuckles and camel toe. There are plenty of options online to help you figure out how to solve them. There are also a multitude of thong styles out there to help you avoid panty lines. And my personal pet peeve – please make sure your undies are in nude shades or match your outfit. Valkyrie looks a lot less fierce when Spongebob is peeking out.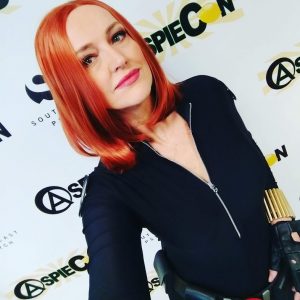 Clown: Do you have a favorite character?
DJ Spider: Dazzler is my first love and might have played a small part in why I do any sort of musical performance (as a DJ – I can't sing a note or play a single instrument). Her story inspired me, her powers enthralled me, and the fact that a roller-skating superhero in KISS makeup has managed to stand the test of time is testament to her story and longevity in the Marvel universe. On a larger scale, Wonder Woman is deep in my heart and soul, as well, for the standard she sets for not only other women, but for the world. We can only hope to live in a world where love is the first choice, not war.
Clown: Is there a dream character that you have not done?
DJ Spider: I have 50 or 60 more cosplays on my to-do list. The last one will probably be Spidey's Aunt May if I can figure out how to do it. The Rachel Summers Excalibur-era Phoenix with an actual full Alan Davis-style Phoenix lit up behind me on command.
Clown: If you could tell your past self anything about cosplay, what would you say?
DJ Spider: Do fewer of them and spend more time with friends, actually. I usually set myself on a frenetic pace to complete a ridiculous number of cosplays every year  and I wish I had gotten into the habit of saying "no" to my inner voice a lot earlier in my life.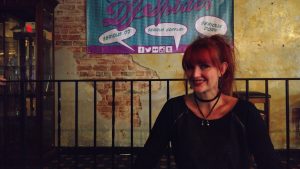 Clown: Tell us your funniest cosplay story and the most horrific?
DJ Spider: Funniest -The first year I did Big Barda, I crafted a female chest plate with a much larger cup size that I have and I wasn't used to it. I was constantly opening doors into them or hitting people in the back of the head on the escalator.  My husband would just apologize with a sigh and say, "Sorry, they're new". Most Horrific – I don't know if I have anything truly horrific, but I was reprising my classic Barbarella for a sci-fi themed burlesque show and, due to some timing issues, I only had about 30 minutes to change in the bathroom at the venue after dress rehearsals were over. While trying to shimmy into the chain mail, one of the pieces snagged on the inside lock of the stall, and the entire piece came apart beyond repair. But the show must go on, and instead of being an iconic space queen, I ended up looking like a space hooker in green.
Clown: What else do you want My City readers to know about DJ Spider/Suzann?
DJ Spider: Just be excellent to each other.
www.Facebook.com/DJSpiderEBM/
www.Facebook.com/thatDJSpiderCostuming/
You can catch DJ Spider at the following upcoming events:
The Milestone for Digital Noir September 21st and November 30th
The Gin Mill for Spider's Hot Mess September 28th and November 15th
The Atlanta Steampunk Expo October 4th
More from Charlotte People
---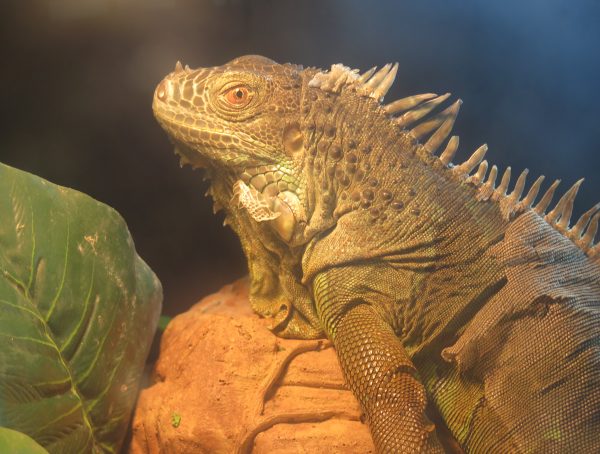 3.3K
Cold Blooded & Bizarre Exotic Pets & Oddities For a little less than a year, Cold Blooded & Bizarre has been …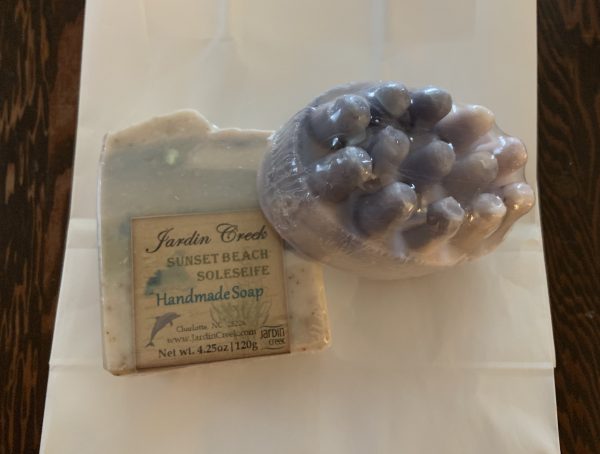 3.0K
Local Product Love Small Business Saturday has come and gone, for 2020, yet it is never out of season to support …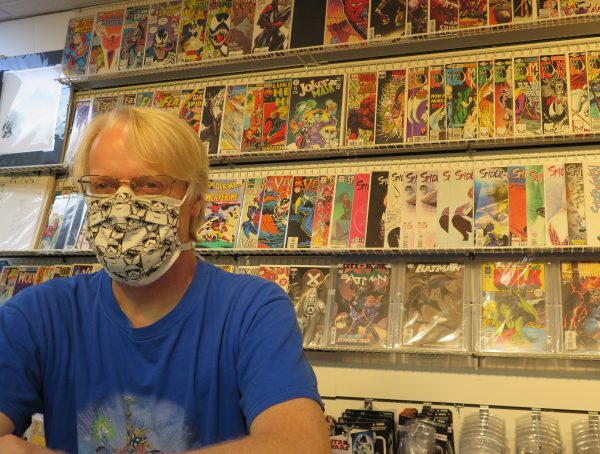 2.8K
Rebel Base Comics & Toys It has been decades since Troy Hasbrouck opened his first location of Rebel Base Comics …