Peter Gray reviews Troy Conn
AND THEN
Troy Conn reviews Peter Gray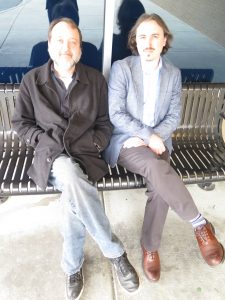 Peter Gray on Troy Conn's "Old and New"
Troy Conn has been one of my favorite guitarists for years now. I've had the pleasure to hear him play in a few different settings and have always been impressed with his versatility, proficiency, and endless musicality. He doesn't just play every genre of music you can think of, but he plays them all masterfully. Troy has chops for years, but he won't beat you over the head with them, unless it's called for. But even when the notes come at you in streams, the melodic ideas are clear, cohesive, and, above all, interesting.
Before listening to his new album, "Old and New," I had heard a few of Troy's compositions, a couple for his rock trio, Bunky Moon, and a few for his eclectic chamber trio, Fat Face Band. Having heard him improvise, it was no surprise to me that he could write. Now, on this recording, I get to hear him really stretch out compositionally and improvisationally. Troy is backed, empathically, by Ron Brendle on bass and Chris Garges on drums. This is also the lineup for Bunky Moon and you can hear the synergy in every tune. These guys have played together a lot and it shows.
While "Old and New" is certainly a modern jazz guitar album, it manages to cover an awful lot of ground. The title track is a haunting tune with a gorgeous melody and relaxed bossa groove. The guitar playing on this track is truly impressive, rich chords filling out the harmony while the melody floats above, always prominent. We also get to hear a solo from each player and all are exceptional.
Another stand out (they all stand out, but I'm going to concentrate on my personal favorites) is "She Tells Stories." I generally try not to make comparisons to other musicians or composers, but I don't think Troy would mind if I acknowledged a Bill Frisell vibe present in this absolutely beautiful song. Once again, the playing is inspired.
My favorite track is the adventurous, downright virtuosic, solo modern classical guitar madness, "Serenade for Willis." There is a lot going on here. As implied in the title, there are several distinct movements, each with its own mood and emphasizing a different technique. There is some truly wild guitar playing on display and I was pretty blown away by the entire composition. I love the prepared guitar in the second movement that I can only guess is a drumstick under the strings. The effect achieved is distinctive and very musical. Bravo.
This music is fantastic. Troy Conn is a world class player and composer and we are lucky to have him here in Charlotte. Take advantage of it. Buy his CD and go hear him play live.
• "She Tells Stories"
https://www.iheart.com/artist/troy-conn-32138368/songs/she-tells-stories-pt-i-56591525/?autoplay=true
• "Old and New"
https://www.iheart.com/artist/troy-conn-32138368/songs/old-and-new-56591522/?autoplay=true
• "Serenade for Willis"
https://www.iheart.com/artist/troy-conn-32138368/songs/serenade-for-willis-56591527/?autoplay=true
www.TroyConn.com
www.Instagram.com/TroyConnGuitar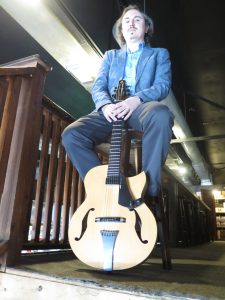 ________________________________
Troy Conn on Peter Gray's "The Darkness Closes In"
Every so often, a musician shakes up their local scene with an album that surprises everyone. Peter Gray has done nothing short of this with his newest album, The Darkness Closes In. This is a record that covers everything from Vauldvillian Waltzes to Zappa-esque mixed meter compositions to exquisite pop ballads to full on thrash metal. All this culminates into one of the most creative, versatile albums I've heard in a long time.
The album opens with "We Have Fun", a title foretelling the music that we hear throughout the record. The organ and Molly Brown's tuba intro set up an almost carnival like experience and the vocal harmonies welcome us into a space that picks us up and puts us down gently before the angular opening of the next tune.
"Aldonza", the second tune on the record, is probably my favorite with the mixed meter and Zappa-like harmonies that lead into a fantastic Wah-Wah guitar melody. The tune fades out with an epic overlapping of several guitar solos.
"Fanfare" which is an interlude leads perfectly into the tune "Sportsball". I don't even know where to start with this tune. It's a musical fantasy that begins with an almost video game like melody and takes us into 1950's Rock n' Roll, polka, heavy metal, and ska. It's a brilliant journey where I experienced something different with every listen.
"Real War" and "Reckoning Day" showcase Gray's ability to also write great rock tunes and lyrics. "Real War" is a gritty rock tune where Gray is accompanied by Grey Brewster on guitar, Jonathan Erickson on drums, and Stacey Leazer on bass to form the classic two guitars, bass, and drums quartet. This instrumentation appears again later in the record on "Never Gonna Fall In Love". "Reckoning Day" is rock/pop ballad in 6/8 time with hints of psychedelic rock and lyrical guitar solos. The tune leaves me wondering what the rest of the solo sounds like past the fade out.
"Challenging Stage" is another interlude written in the style of an '80's movie montage. Again, this interlude changes the mood and sets us up for the odd-meter Bossa Nova of "Monkey Fighting Snakes". This track has a meandering melody that leads into a Danny Elfman like synth melody that eventually ends up in heavy metal territory.
At this point of the record, Gray gives us a trio of vocal tunes. "Sunrise" is an intense ballad that begins with slow percussion then adds acoustic guitar doubled with piano. The chorus gets quite heavy – the second verse leads to a break down with only horns, and an organ is added before the end of the tune. "Wrong" is another gorgeous ballad that starts with just electric piano and harmonized vocals. The tune gets into rock orchestra territory with beautiful string arrangements, layered guitars, and well thought out orchestration. The cinematic ending leaves us in an introspective mood before the rock/pop vibe of "Never Gonna Fall In Love". With it's vibe reminiscent of '90's rock and layered guitars and pop vocals, Gray shows us he's equally adept in writing radio friendly songs that still have substance.
"Powerball" is another favorite, with a mixed meter Prog inspired riff. An angular melody leads us into a quiet orchestral interlude that gives way to heavy detuned guitars. "Can't Sleep" is a brutally honest heartfelt ballad. It's sparse arrangement pulls the listener into this intimate space.
"How Do you Know" is another tune that showcases Gray's vocal arrangements. The tune starts with an almost "doo wop" beginning and the background vocals continue throughout the song. "Regret" is another waltz that feature Jane Brendle Hart on violin, one of the only guest musicians on the record. It's another beautiful melody with a timeless quality.
The title track is a "bossa" interlude that sets the tone for the next tune, "Big Dumb God". B.D.G. opens with something of a warped calliope that gives way into a swing organ trio vibe into a disco beat that leads into operatic guitars in outer space before horns give way into the opening theme. Gray is accompanied by Matt Postle's trumpet and percussion by Marcus Farrar.
The album closes with "Heaven". Vocalist Reeve Coobs sings a haunting melody accompanied by a flowing acoustic guitar. The tune builds with vocal ostinatos and string/horn arrangements until the song ends with a lone vocal phrase that fades into silence.
Gray has given us a brilliant record that displays not only his immense facility on guitar, but also his ability to compose string/horn arrangements, vocal harmonies, and pop sensibilities. This is even more impressive when you consider he did this record almost completely solo, playing all the parts, with exception of the few moments where he has invited the guest musicians to shine. I highly recommend The Darkness Closes In. It is a record that continues to inspire in every listen.
www.Instagram.com/PeterGrayGuitar
Avaliable on Amazon, Spotify, & iTunes.
https://soundcloud.com/peter-gray704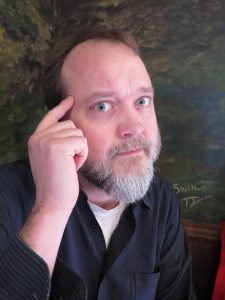 photos: Ellen Gurley
More from Charlotte People
---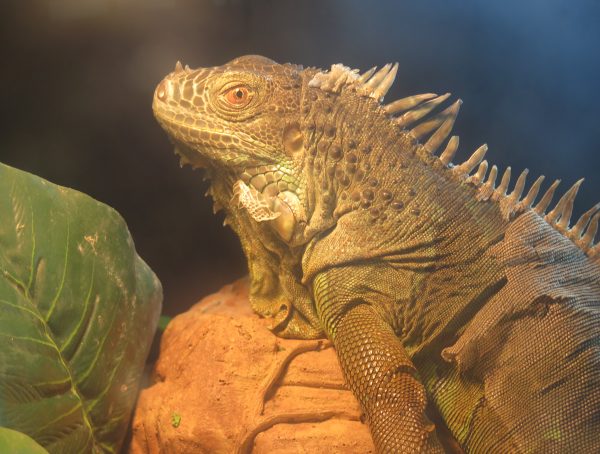 3.1K
Cold Blooded & Bizarre Exotic Pets & Oddities For a little less than a year, Cold Blooded & Bizarre has been …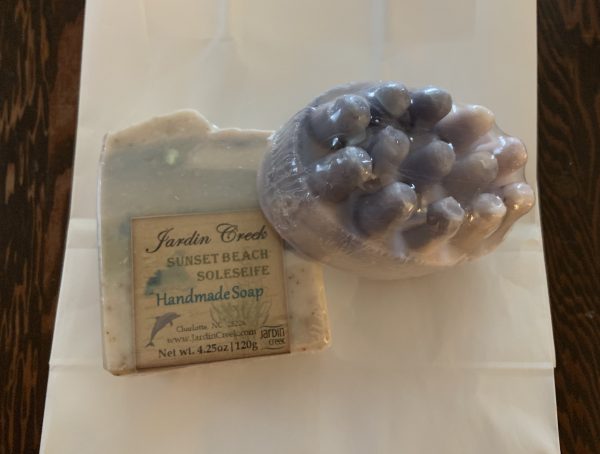 2.9K
Local Product Love Small Business Saturday has come and gone, for 2020, yet it is never out of season to support …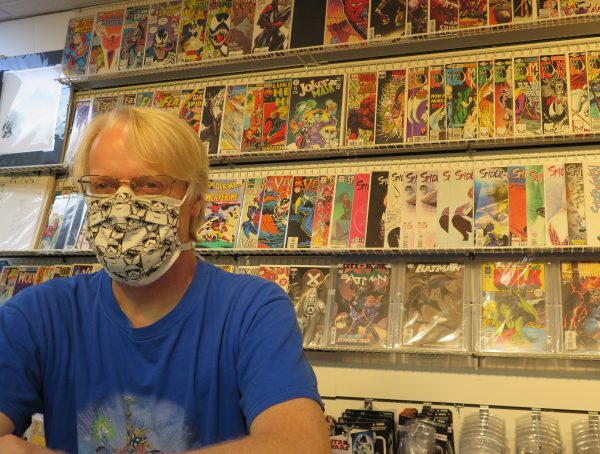 2.6K
Rebel Base Comics & Toys It has been decades since Troy Hasbrouck opened his first location of Rebel Base Comics …