My City Magazine Pet Profile
Biggie Smalls
Jan. / Feb. 2018 issue of My City Magazine

Biggie Smalls the Boxer is one well traveled boy for his spry 5 years.  Born in Virginia, raised in the Big Apple, now spending his days in the Queen City, Biggs is a true lover.  His favorite thing is to lick the back of your teeth.  I'm quite sure he thinks he's French because he is all tongue.  He is 60 pounds of lap dog and he loves a fuzzy, soft blanket. If one assumes to take that cozy nap on the sofa by themselves, they need to think again.  His one character flaw is that he is a jumper, having broken at least one nose.  He's just so happy to meet people.  Momma had help in raising him; his 'sister' Pickol let him know the day he came home that she'd have none of his shenanigans and laid down the law right away.  That didn't stop him from endlessly dive bombing her to goad her into an occasional play session.  She may have been slower but she was a tough ol' broad.  When she went to the Bridge, Biggs got a new brother, Maso, 1 year male Boxer, 2 years younger than he.  Biggie quickly learned what it was like to have a youngster bugging you all the time, but they quickly became thick as thieves and are now completely bonded.
Biggie is a frequent flyer at NoDa Bark and Board with Maso and he loves to walk in the woods at the Nature Center at Reedy Creek Park.  He also has another hobby.  He's an excellent photography model.  Momma started putting him in ridiculous costumes when he was 2 and photographing him in funny scenes.  He almost takes on a service dog persona, allowing me to pose him, remaining calm and pliable throughout the shoots.  Well, that and he'll do anything for chicken?!  He has a Facebook following of over 1,000 (more than Momma?!) and his photos have been used for Carolina Boxer Rescue promotions as well as for NoDa Bark and Board.  You can find some Poptiles for sale of some of his prints at 4 Dogs Pet Supplies in NoDa.  Biggie Smalls the Boxer is the best dog – everyone that meets him falls in love with him.  It's impossible not to.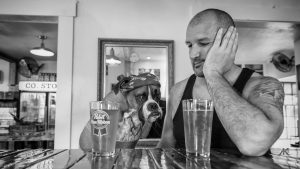 Would you like to see your pet's profile in My City Magazine?  Email EllenGurley@gmail.com.
You might also like
---
More from Featured
---
SUNDAYS: SPORTS / ACTIVITIES: • www.CharlotteCheckers.com HOME 2.19 4pm vs. Hershey Bears 3.26 1pm vs. Providence Bruins • www.Hornets.com 3.05 6pm @ Brooklyn Nets 3.12 5pm vs. …
  Sarah Pollock (cover illustrator) Michelle Rackley (magazine layout design) James Lee Walker II (columnist) Chris Austin (webmaster) Ellen Gurley (owner / editor) Jenna …
www.MyCityMagazine.net P.O. Bo 5606 Charlotte, NC 28299 704-575-6611 ellengurley@gmail.com Facebook & Instagram: MyCityMagazineCharlotte Twitter: MyCityCharlotte • To run an ad in print and digital, contact ellengurley@gmail.com. • To …